Advice for Aspiring Game Developers and Researchers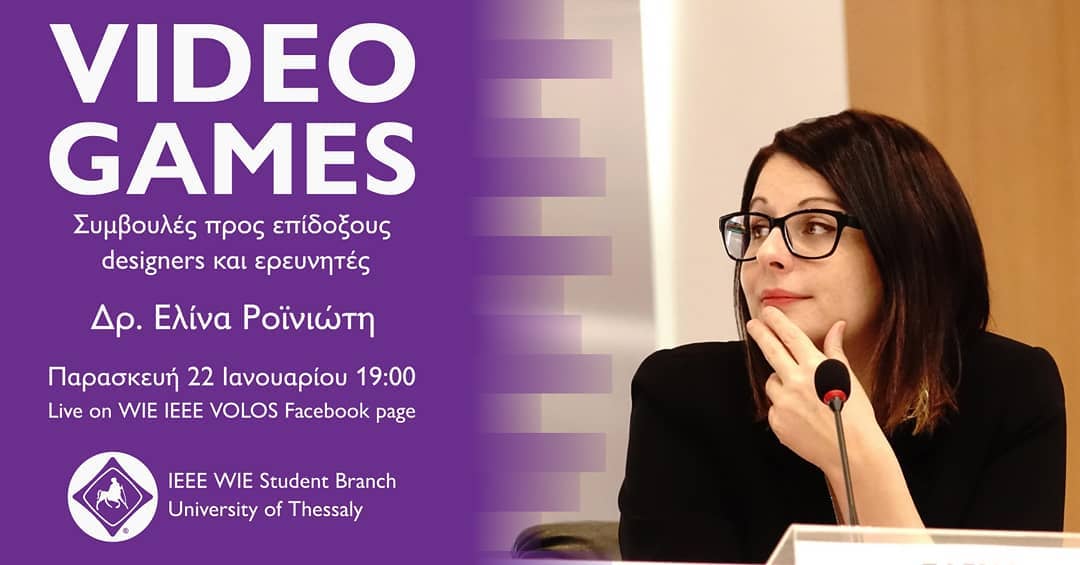 Our branch organised a lecture on the design and research of electronic games with a speaker Dr. Elina Roinioti on Friday, January 22 at 19:00 via Facebook live.
Dr. Roinioti initially talked about her professional career and the current situation in game development. Introductory concepts such as what an electronic game is and what the modern gaming industry is. The place of video games in today's Greek society was also examined. Finally, she analyzed the steps and gave advice on the design of a "serious game", in which the player is trained and entertained at the same time.
Robotics & Bioengineering: a sneak peek to her current work and how it all started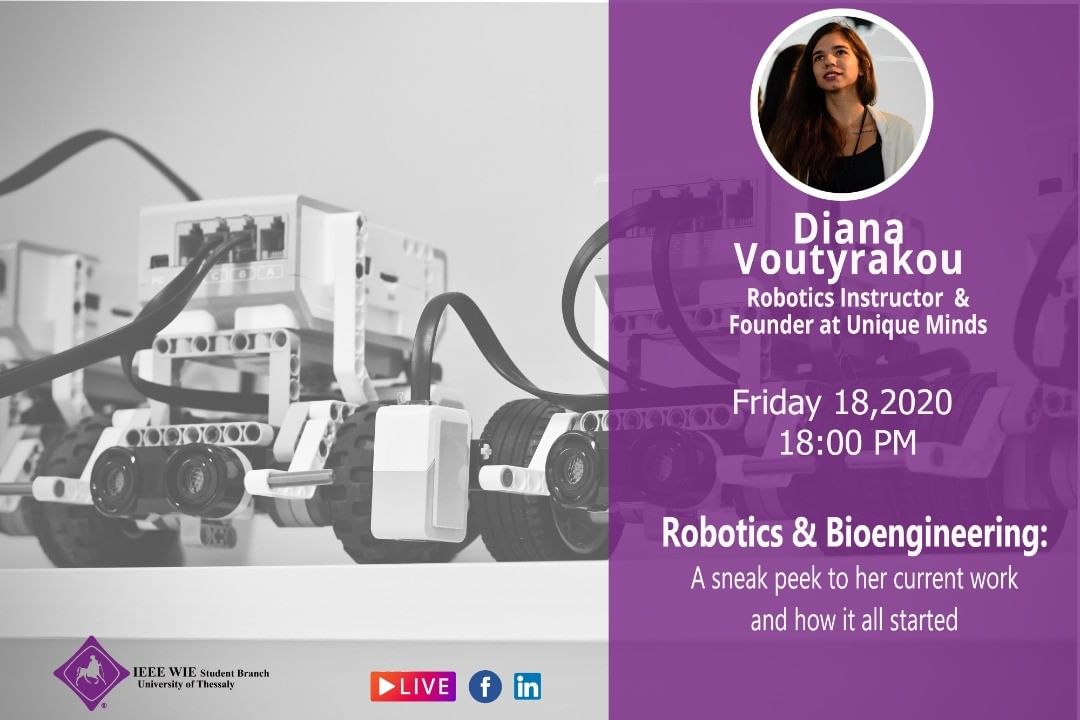 On Friday 18, 2020, Dialekti Athina Voutyrakou joined our online event live on Facebook and Linkedin. We discussed her career, from the early start to now, but also she showed and informed us about her work in bioengineering in Munich.
Diana is now a Robotics Instructor and the founder of Unique Minds, an NGO that is informing and helping young children to choose their academic path. Currently she is working in biomedicine, where she aims in reducing errors with the use of augmented reality in surgeries that are implemented with the help of robotics.
Her love for robotics started from a very early age where she took her passion to numerous pan-hellenic and international competitions, leading to success. Achieving first places in the Robotic Olympic of Costa Rica in 2017 and World Exhibition of Youth Science and Technology in China in 2018 are a few of her accomplishments.
Besides being an incredible engineer Diana is also an amazing woman,who struggles into bringing more women into stem fields. She was awarded with the Greek International Women Award in the Young Star category, the honorary Education Leaders Award and is a G (irls) 20 Ambassador for integrating more young women into STEM science.Finally she was one of 9 women selected for The NewNow global initiative Rising Women at the Table.
Pro Tips & Tricks for Social Media Content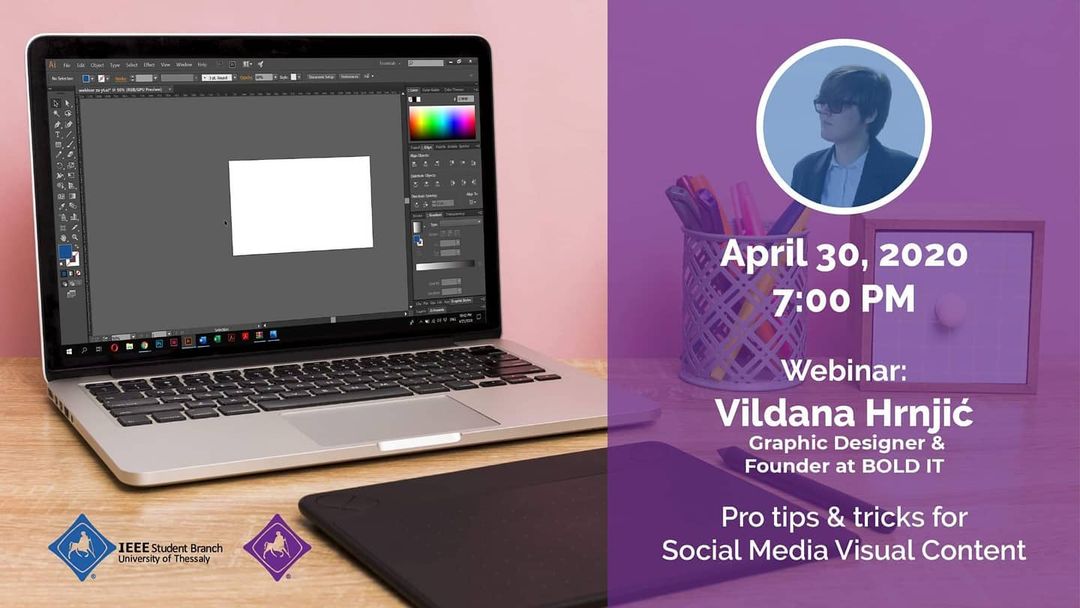 Our IEEE Branch organized a very useful and interesting webinar where you will have the opportunity to learn the basics of Adobe Illustrator and how to create good graphic visuals for Social Media Visual Content. Our guest and lecturer was Vildana Hrnjic, a creative Graphic Designer from Bosnia and Herzegovina.
Vildana Hrnjic studied Graphic Engineering at the Faculty of Technology in Banja Luka. Throughout her studies, she worked as a Graphic Designer at several companies, organizations and as a freelancer. Vildana is also an IEEE volunteer, member of the Bosnia and Herzegovina section.
Creativity was always an important part of her life. She painted in high schools and had many exhibitions of her art. For the past few years, she has been designing art posters to raise awareness of the problems of society. Vildana is particularly proud of the BE PART OF THE SOLUTION series of posters that discuss environmental and women's rights issues. The result of her artistic nature are numerous joint and solo exhibitions in BiH and abroad.
With the desire to make an impact, she was active in several NGOs. Using every opportunity to learn, she gained expertise in other areas such as digital marketing. All her experiences have shaped her into a successful leader and young entrepreneur with her agency-BOLD IT.
Introduction to Android Studio: Learn how to design a logic screen & how to verify data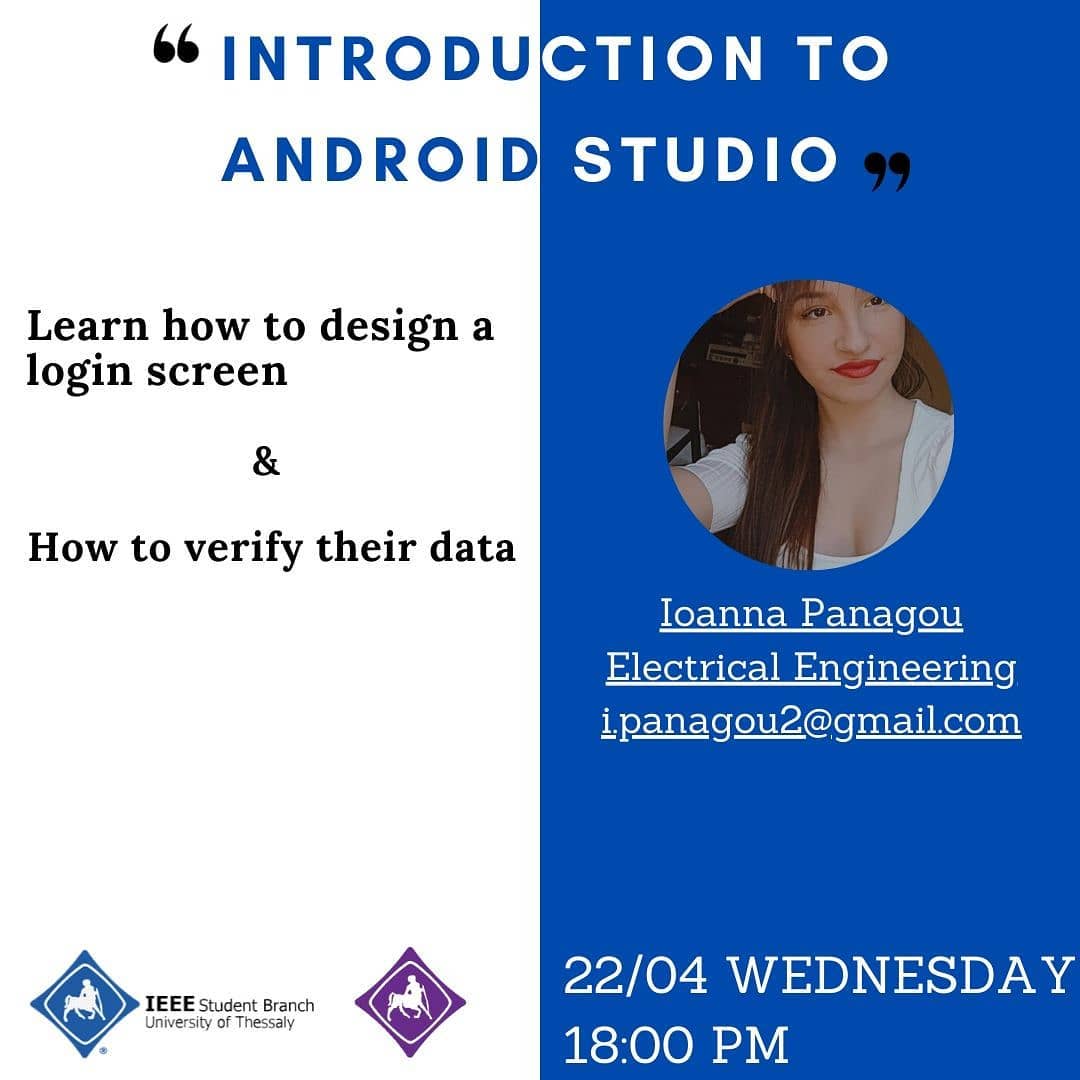 On Wednesday, April 22, 2020 our team organized a webinar with a speaker Ioanna Panagou, an undergraduate student in the Department of Electrical and Computer Engineering of the University of Volos.
The theme of the webinar was "Introduction to Android Studio: Learn how to design a logic screen & How to verify their data".
The webinar was targeted towards those interested in mobile app development, since there is no better environment to start building your first app than Android Studio.
The speaker illustrated how to design a login screen for your future users and how to verify their data with Firebase.
A Woman-An Engineer-A CEO
Two renowned female engineers talk about their businesses,their personal experience on their journey to success, prompting everyone to follow.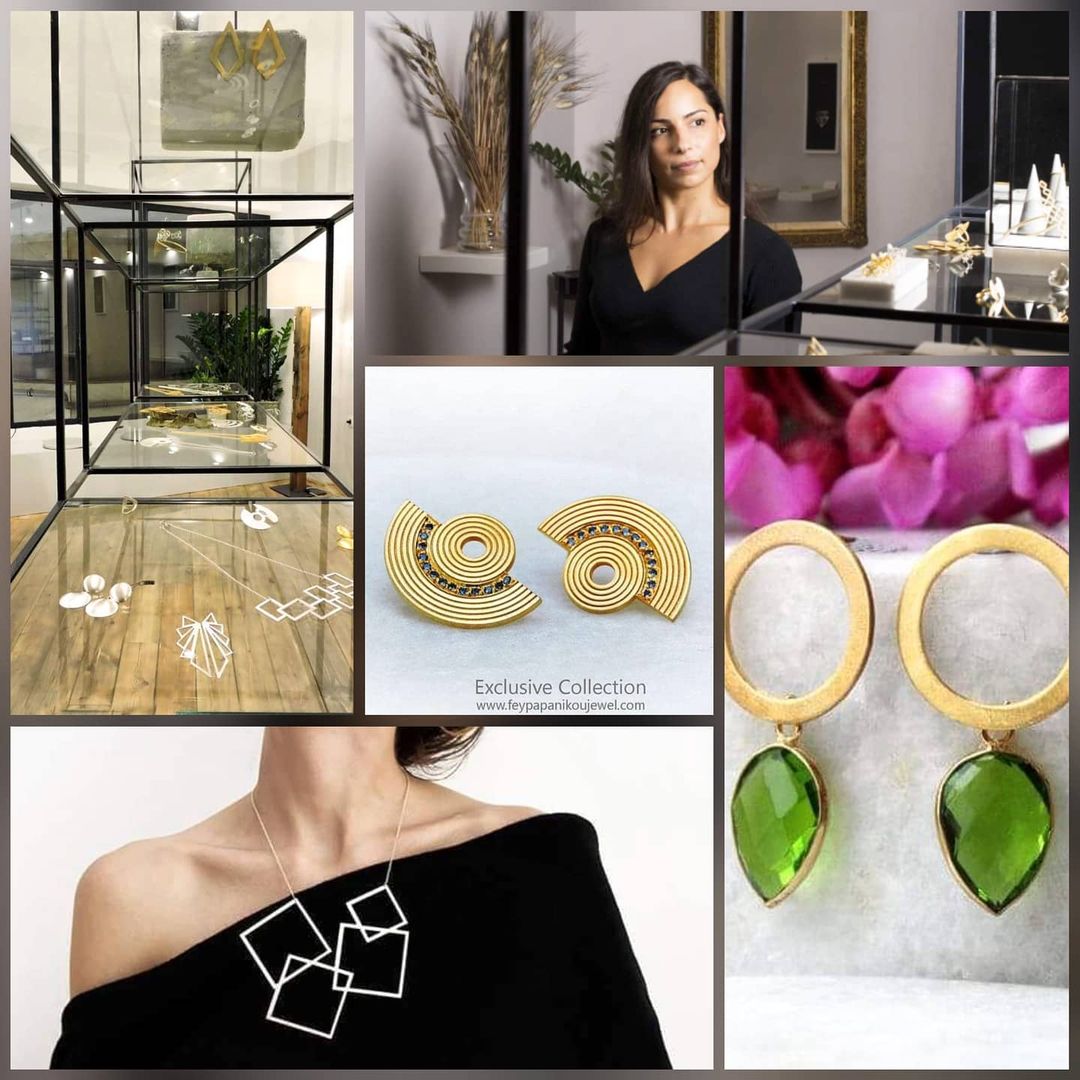 Specifically, Fay Papanikou is a jewelry designer that after completing her studies in architecture, devoted herself to the design and creation of jewelry, founding her own business.Her works are influenced by her studies, the field of theater, music and are characterized by strict geometries and elements of nature.
Architect Debbie Flevotomou, with a vision to create a more beautiful architectural world, is setting up her own London-based office. Apart from her distinctions in the world of architecture, she also stands out for her philanthropic work through her own dance school "London Ballet Theater".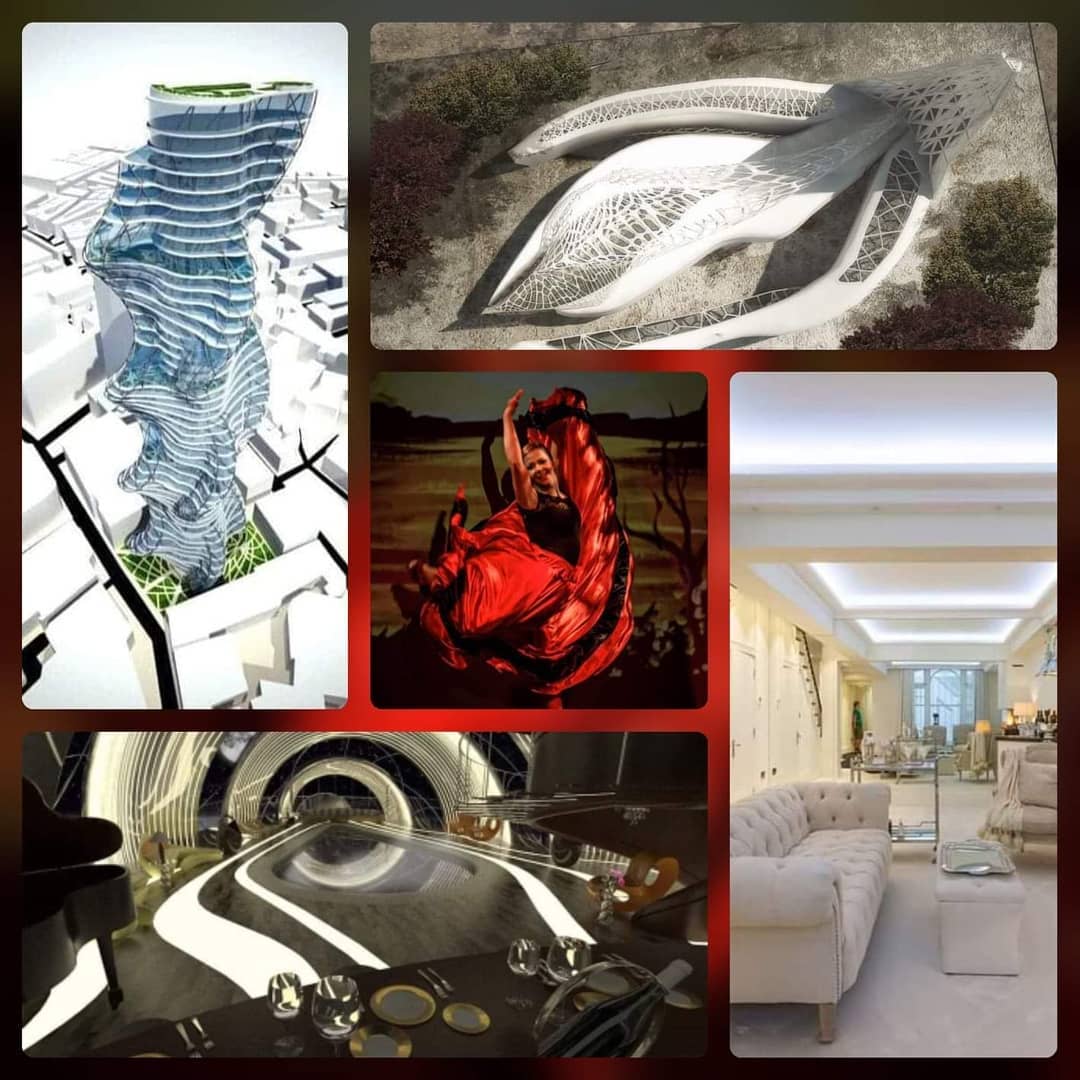 In a crisis we stay together
We did a live show on the WIE Volos Instagram account. The viewers had the chance to meet the team and ask us questions about our vision,goals and activities. Also, we talked about how important it is to stay inside and respect the social distance,offering them ideas of how to spend their extra time at home productively and not.
Fantastic Women and Where to Find Them
On Saturday, February 8, 2020, the WiE Volos talk on "Fantastic Women and Where to Find Them" took place with great success.
Speakers Vana Doufexi, Hariklia Tsalapata and Mandalena Soula gained the public's interest, sharing with them not only their experiences during their studies, but also their careers as women in the male-dominated world of engineering. They offered valuable advice on issues such as survival in the competitive environment of their work space as well as to break down stereotypes that prevent women from choosing the profession of engineer.
In addition, they answered the questions of the audience in a good mood and inspired several young children to assist in our effort, asking to join our team.